The Hanoi Ceramic Mosaic Mural: World's Largest Ceramic Mosaic
Vietnam's first public collective work of art, the Hanoi Ceramic Mosaic Mural can be found on the wall of the dyke system in Hanoi, Vietnam. Work on the mosaic began in 2007 and was completed in 2010 on the occasion of the millennial anniversary of Hanoi.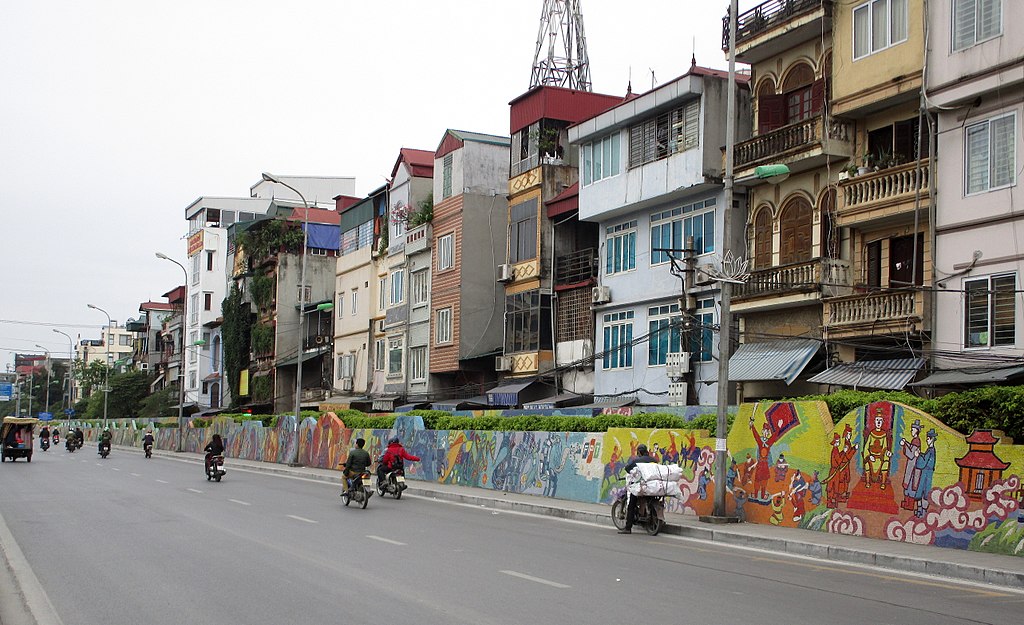 Nguyen Thu Thuy, journalist of culture and arts, came up with the idea of transforming Hanoi's dyke system into a mosaic mural after passing by the grey concrete dyke everyday. Despite the fact that it is believed to be around 800 years old and protects Hanoi from floods, it isn't exactly a beautiful work of art! The journalist wanted to take advantage of Vietnam's rich history of producing ceramics and mosaics.
In order to turn her dream into reality, Ms. Thuy started by presenting her Hanoi Mosaic Mural project using Photoshop images at the Hanoi Embellishment Exhibition on March 14, 2007. The project was received enthusiastically by the press and public alike.
Ms. Thuy then launched the New Hanoi Arts organization, together with Nguyen Huy Cuong, Nguyen Thuy Van, Nguyen The Nam and Bui Viet Doan.
The organization oversaw the implementation of the mural project and also provided Mosaic courses to children and adults.
Over 20 Vietnamese, 15 foreign artists, 100 craftsmen and 500 children collaborated on the project. The foreign contingent included embassies and culture centers in Hanoi such as the Goethe-Institut, L'espace and the British Council.
The mural itself was made using ceramic tesserae, a type of tile used in mosaic which are a product of the Bat Trang village. It is organized into 21 sections and portrays the different decorating styles throughout the history of Vietnam. Indeed many have considered the mural to be a visual narrative of the country's history.
In February 2008, the mural project was listed among the Top Ten Cultural Events of 2007 in the prestigious Vietnamese newspaper Nhan Dan. A month earlier The Ford Foundation had become the project's first financial sponsor.

Dr. Alison R. Bernstein, Vice President of Ford Foundation New York, declared "the beauty of this mural is that it combines traditional ceramics with contemporary artists' creations".
In October 2010, the Hanoi Mosaic Mural was awarded a Guinness World Records certificate for the world's largest ceramic mosaic, with a length of around 4 KM. Ms. Thuy was proud of the achievement and stated that the project "reflects the vibrancy and complexity of Vietnam's capital city, and is the ideal way to commemorate Hanoi's 1,000 year anniversary."
It is safe to say that the completion of the Mosaic Mural was a beautiful way to celebrate the millennial anniversary of Hanoi.